By Caydin Brandes
In early 2020, through the iLEAD DreamUp to Space project, I and about 10 other learners embarked on a journey together to study and learn about space, microgravity, and the ISS. This project would present us with many unforgettable opportunities that we never would've had anywhere else.
At first, due to Covid, our team met via Zoom. We were shy, quiet, and could hardly answer a question on the spot. However, this experience would not only teach us about science but help us develop important life skills, such as public speaking.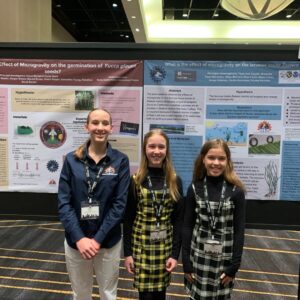 At the beginning of our DreamUp project, we watched fun videos with Chris Hadfield and visited interactive websites that helped us engage with and understand inertia and microgravity. Now, at the end of the project, we have had many conversations with aerospace experts and scientists from NASA, Nanoracks, and Elkhorn Slough National Estuarine Research Reserve. Last November, we traveled to Houston, Texas, where we presented at the American Society for Gravitational and Space Research (ASGSR) Conference with high school and undergrad students from around the world.
In the two years we have been a part of the iLEAD DreamUp to Space project, we have experienced many amazing opportunities, practiced important life skills, and learned so much, not only about space but about Earth and our fragile ecosystem. The project has made a huge impact on us, and we have loved working together and making lasting friendships as Team Seagrass. Even though it has been a lot of work, we think it has been well worth it, and we will take the lessons we've learned with us for the rest of our lives.
Featured image: Team Seagrass at Kennedy Space Center to witness the launch of their experiment to the ISS. From left to right: Maya C., Enzo C., Teya B., Sadie H., Caydin B., Jersey H., Naya B., Peyton P.