By Grace Stumpf & Raegan Brown
DreamUp to Space is a project that challenges young people to understand and explore the impact that microgravity has on matter. Through a partnership with DreamUp, iLEAD learners in grades 5-12 are inspired to develop the skills and knowledge to design, develop, and propose an experiment that could be run on the International Space Station.
In July of 2020, two teams from iLEAD Schools were selected for flight in the 2020 DreamUp to Space Virtual Mission & Experiment Design Challenge. Currently, learners from across the network were selected and are now collaborating on these two "Launch Teams" — Team Carrot and Team Vigna Radiata — in preparation for a June 2021 launch of their experiments to the International Space Station.
Each learner has unique interests, strengths, and goals to bring to each team. We'd like to introduce you to our team members! Today we're introducing Hutch Siegen, Team Carrot.
Meet Hutch Siegen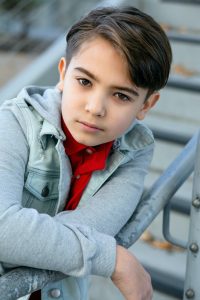 Hutch Siegen, brother to fellow launch team member Sophia Siegen, is a 6th grader at SCVi Charter School in Castaic, California. Like most 6th graders, Hutch enjoy video games, YouTube and Star Wars. Hutch is an avid Lego collector and enjoys making stop-motion videos with his Lego sets. Hutch has danced competitively since he was four years old, winning numerous awards in Polynesian dance, hip-hop and jazz. Hutch also enjoys horseback riding, gymnastics, golf and tennis. Something that stands out about Hutch is that he is a writer for SCVi Leader, SCVi's school newspaper! In a recent article, he wrote about his team's unique opportunity to discuss our projects with NASA Chief Scientist Dr. Jacob Cohen. Hutch's dream job is to work with kids and motivate them to make an experiment and go through the process of putting their experiments on the ISS, the Moon, or even Mars!
We had an amazing opportunity to ask Hutch a few questions about the DreamUp projects and a lighthearted question as well!
What superpower would you want?
"If I were to have a superpower, it would be to shape-shift; I could turn into any animal. I first learned about this superpower from the original movie The Shaggy Dog.
Who do you look up to?
"I look up to my parents, teachers, sister and friends because they know what to do in different situations and always give me good advice."
How does it feel to be a part of such an amazing project?
"It feels super great to be on a team that has a once-in-a-lifetime opportunity! I get butterflies. I am very excited."
We look forward to introducing more team members to you soon!