What happens when an experiment comes back from Space? What's next?
On Sept. 20, ten iLEAD learners and their families gathered at UCLA's Terasaki Life Sciences Building to do what few have done: Touch and analyze something that has been to Space and back! Led by Kathleen Fredette and Shawna Brown, two teams of learners–called Team Carrot and Team Radiata– in collaboration with UCLA scientists Lauren Dedow, Lab Manager and Senior Research Associate and Pablo Martinez, and Liz Roth-Johnson from the CA Science Center were able to see what happened to the experiments that had been prepared and launched to the ISS in June 2021. The experiments were focused on how the condition of microgravity would affect the germination process of carrot seeds and mung beans.
Prior to opening the experiment container, called a mixstix*, the learners were able to hold the tube and take a moment to celebrate the journey they had been on for over a year. Due to the pandemic, all of the preparation for sending the experiments was done virtually, so being together in person was a long awaited reunion: people connecting through this singular experience.
The group gathered outside as introductions were made: learners and family members with Pablo, Lauren and Liz sharing some of their own journey of how they entered into the field of plant research.
Once in the plant and algae lab, the teams were able to see their experiments extracted from the tube and the initial excitement of seeing the contents through a high powered microscope projected onto the screen. Team carrot was excited to see that some of their seeds had indeed germinated and were able to compare to the seeds that had also germinated on Earth. The mung beans had started to germinate, but something had arrested their development, which led to lively discussions about what might have happened.
Perhaps the most magical part of the day was the team debrief — learners, scientists, family members and educators — gathered around a conference table noting what they had observed, what they wondered and recommendations for best practices for future experiments.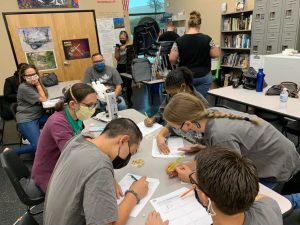 The following Saturday, the teams re-convened at SCVi's Upper School lab as the UCLA team now joined by Dr. Siobhan Braybrook and Al Bowers (chief Scientist, NASA Armstr ong, retired) to do further analysis.
The space samples had been embedded in wax, thinly sliced and placed on microscope slides. Learners worked with Dr. Martinez and Dr. Braybrook to prepare the slides with dye and then took photographs of their samples at a cellular level using a digital microscope. In another part of the lab, Dr. Dedow guided learners to analyze germinated seeds to gain understanding of what had transpired to their beans in space.
Al Bowers noted to our learners: "It's so incredibly important what you are doing. You have no idea how mind blowing this is–young people with postdocs working together to do this! You have a huge opportunity and this is awesome!"
*the mixstix is supplied by Nanoracks, sister company to DreamUp who we contract with to send our experiments to Space.
Kathleen Fredette, Director of STEAM Initiatives
How does it feel to touch something that has been in Space?
There's a breathless moment when you are acutely aware that very, very few people in the history of ever have had the opportunity you are having.
Does sending stuff to Space ever get "old"?
iLEAD California Charter Schools and Maker Learning Network have launched 9 learner-authored experiments to the International Space Station. It's still a magical experience to be involved with young people and experts collaborating to do something this significant.
What's the "why"?
When you are gifted with the privilege of being part of Space science, there is a certain obligation to share that experience.
Here's an"in-house" video that explains more about getting an experiment ready to go to Space.